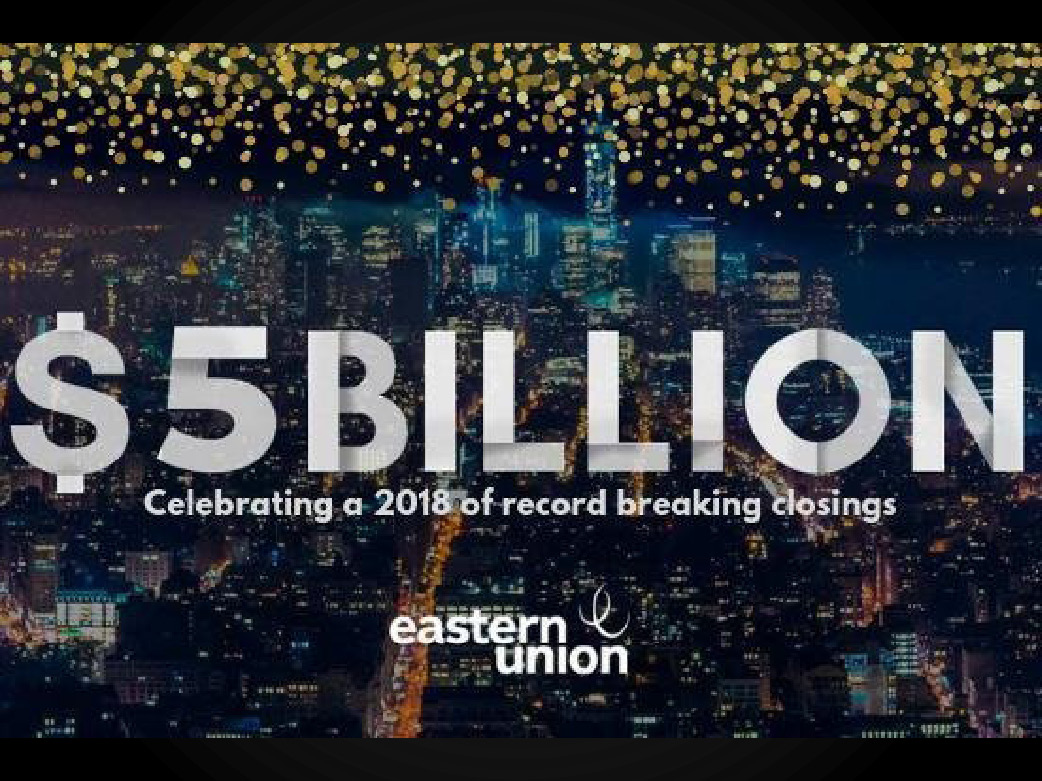 Eastern Union, one of the country's leading commercial mortgage brokerage firms, closed a record-setting $5 billion in real estate transactions in 2018. This deal volume includes more than $1 billion in funding arranged through the firm's Structured Finance and Bridge Division.
Overall closings for the year for Eastern Union — whose equity transactions are managed by its Eastern Equity Advisors affiliate — represented an increase of 25 percent over the company's $4-billion volume mark during 2017.
 "In 2018, the real estate marketplace continued to reaffirm its confidence in Eastern Union and our brokers," said company founder and president Ira Zlotowitz. "We've capitalized upon our status as a national leader in real estate finance, working on every type of debt and equity structure across the capital stack with nearly 1,000 successful closings in 2018."
"I am thankful to G-d for our good fortune, and to the clients and bankers who have placed their confidence in us," he said.
Co-founded by Mr. Zlotowitz and managing partner Abe Bergman in 2001, Eastern Union today operates in conjunction with three primary entities, in addition to its conventional debt unit:
The first entity, the firm's Structured Finance and Bridge Division, reached its $1 billion milestone last year by helping commercial real estate owners secure funding for construction, bridge, mezzanine, preferred equity and hard money loans. Managing director Mordechai Beren leads this team.
"Owners are getting more knowledgeable about the wide array of financing strategies available to them," said Mr. Beren. "But they also know it takes creativity and sophistication to close complex deals. Our structured finance business expanded significantly this year because clients know they can rely upon Eastern Union's expertise and relationships."
One standout transaction within the Structured Finance and Bridge Division was a $110-millionmortgage provided by Benefit Street Partners Realty Trust to refinance a large-scale apartment project in Brooklyn's Bushwick section being developed by Bushwick Realty Holdings. The transaction was brokered by Mr. Zlotowitz and senior managing director Meir Kessner.
As another exemplary 2018 deal, Mr. Beren and Mr. Bergman arranged a $32-million bridge construction loan for a mixed-use development in Texas.
The second entity is the Healthcare Group, a division of Eastern Union. It is led by managing director Philip Krispin and vice president Nachum Soroka. This team services owners and operators of skilled nursing and assisted living facilities, hospitals and other health-related properties nationwide. The unit — the fastest growing within Eastern Union — arranges acquisition loans, bridge and HUD financing, advance lines, cash-outs, partnership buyouts and permanent debt placement.
"Real estate finance in the healthcare niche requires specialized expertise," said Mr. Krispin. "Every member of our healthcare team has mastered the intricacies of healthcare finance. They put their know-how to use on behalf of our growing roster of satisfied clients."
The third unit is Eastern Equity Advisors, an equity brokerage firm that is an affiliate of Eastern Union and is overseen by managing director Marc Belsky. The entity leverages long-standing relationships with a range of capital providers — along with its understanding of investment processes and requirements — to help real estate professionals raise equity from institutional and entrepreneurial sources. Eastern Equity Advisors focuses on middle-market transactions in the $15-to-$200-million range.
"Each year, the middle market taps ever more deeply into the exceptional resources of Eastern Equity Advisors," said Mr. Belsky. "Extending across all asset types, our team draws consistent praise for its ability to gauge the potential availability of capital, to be creative with the full capital structure, and to expeditiously master and close complex deals."
While Eastern Union brokers focus their energy on the art of executing and closing deals, the company complements their work by leveraging its exclusive relationship with QTS Services, America's largest independent quotes and term sheet servicer based upon loan volume. QTS Services takes responsibility for the substantial groundwork associated with each transaction, encompassing shopping, producing quotes and term sheets, and packaging the deal.
"By assuming responsibility for a deal's underpinnings," said Pinchas Vogel, chief operating officer of QTS Services, "QTS expedites the transaction process for our network of more than 400 lenders, while enabling Eastern Union brokers to devote maximum attention to client service and devising the best possible deals."
"Eastern Union's success is attributable to our brokers' unrivalled reputation for client service," said Mark Schnurman, chief sales and operating officer at Eastern Union. "We maintain strong and steady growth by consistently refining our structure and our specialties to meet the emerging needs of the market."
"Our brokers represent the gold standard in the commercial real estate industry," said Mr. Bergman. "Their experience, creativity and analytical skills equip them to successfully close transactions with complex angles, delivering our clients the most creative deal structures and aggressive rates."
Read the article in the PR Newswire here.